Shipping: Everything you need to know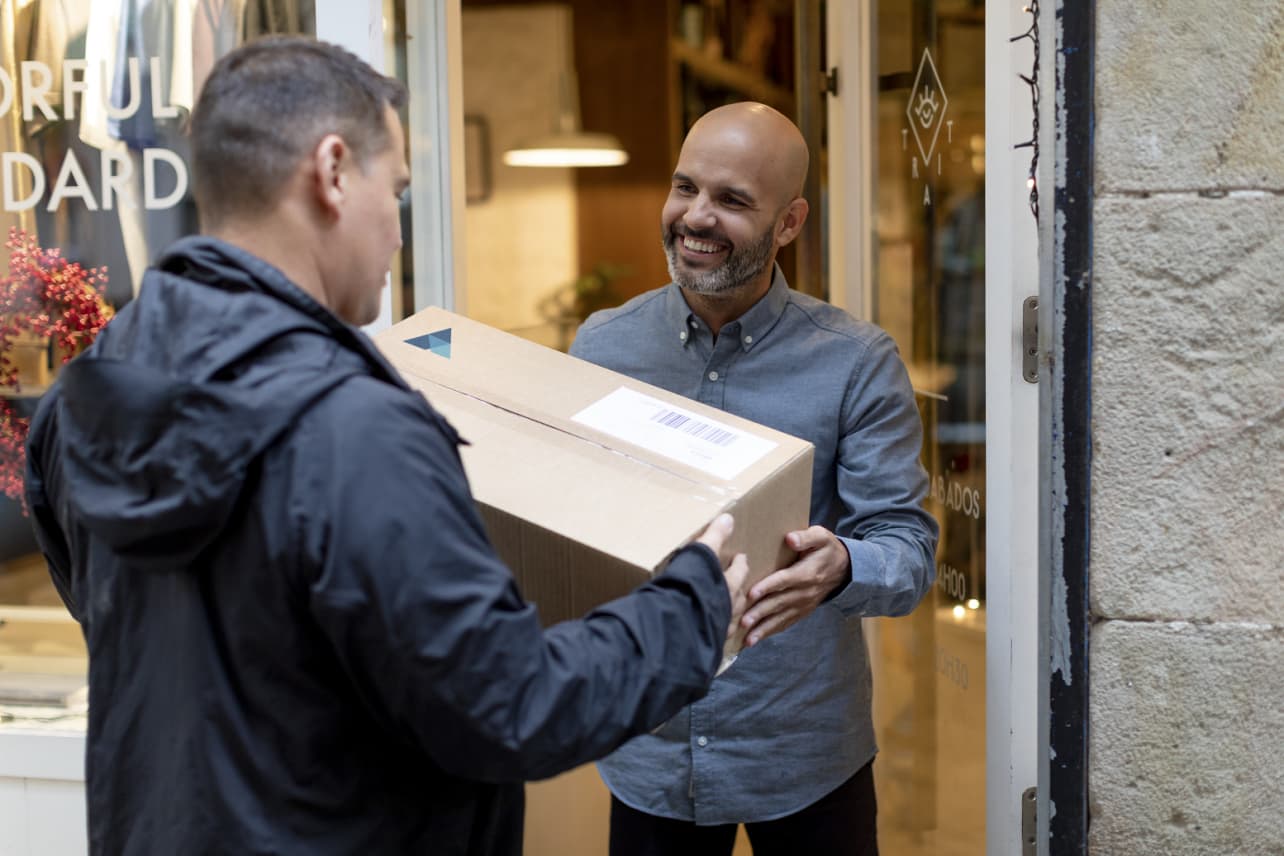 We want you to get your package as quickly and affordably as possible, whether you ordered way in advance or need your product ASAP.
Note: Mail carriers are experiencing intermittent delays due to COVID-19, but most orders arrive by the delivery time shown in checkout.
Here's a breakdown of your shipping options, calculated from the day you place your order:*
ExceptionsSome products will take a little longer to produce and ship. Most, but not all, of these are listed right here.
NOTE: During checkout for every order, we'll show you an expected delivery time for each of your products – and we'll let you know if some items may come in separate packages.
Frequently asked questions
Do your shipping speeds include production time? 
Yes, always! Our listed speeds include both the time it takes to print your order and deliver it to you.
Do you offer expedited shipping? 
Our fastest option is Express Shipping (3 business days) which includes the production time of your order and the delivery.
Are your shipping times guaranteed? 
When you add an item to your cart, you'll be asked to choose a shipping speed. After that, we'll show you the promised arrival date for your item – and we stand by that. Bad weather and carrier delays can happen, but if your order doesn't get there on time and you're not satisfied, neither are we. Contact us and we'll make it right.
Do you offer free shipping? 
While we don't offer free shipping right now, we do our best to offer you fast, affordable options. We're always working to reduce our costs, so that we can pass along the savings to you.
Do I get tracking info? Where can I find it?
Once your order ships, we'll send you a shipment confirmation email that includes the delivery method, estimated arrival date and other tracking details (if available). You can also go to your order history to look up tracking info.
Which shipping carriers do you use?
We use a variety of shipping carriers, including the United States Postal Service (USPS), UPS and FedEx. We determine which carrier to use for your order based on a variety of factors, such as products purchased, shipping address, size/weight of the order and delivery speed selected.
Can I arrange for my own shipping provider / courier to deliver my order?  
We're sorry, but because of our production process, we can't accommodate special shipping requests.
Do you ship internationally? To which countries do you deliver?
Yes! We're happy to ship your order internationally – please note that additional delivery rates will apply.

We deliver to: the United States of America and U.S. Virgin Islands, Australia, Austria, Belgium, Brazil, Canada, Cyprus, the Czech Republic, Denmark, Finland, France, French Guiana, French Polynesia, Germany, Gibraltar, Greece, Greenland, Guadeloupe, Guam, Hong Kong, Iceland, Ireland, Italy, Liechtenstein, Luxembourg, Malaysia, Malta, Martinique, Mexico, Monaco, the Netherlands, New Caledonia, New Zealand, Norway, Poland, Portugal, Puerto Rico, Réunion, Singapore, Spain, Sweden, Switzerland, the United Kingdom.

Do you ship to APOs and MPOs?
Right now we can't, but we're looking into how we can ship to military addresses.
My package was supposed to arrive today, but I have not received it yet. What should I do?
Packages are delivered by 8pm in your time zone daily. If it is not yet 8pm you can view your tracking information in your Order History under My Account. You can also contact us at any time, and we'll be glad to assist.
What if my package is returned to the sender?
If the carrier was unable to deliver your order and it was returned to our manufacturing facility, please Contact us and we'll reship your order free of charge.
My product contains a defect or is damaged, what can be done?
If the product is damaged and / or contains manufacturing defects when you receive your order, please Contact us and we'll send you a replacement free of charge